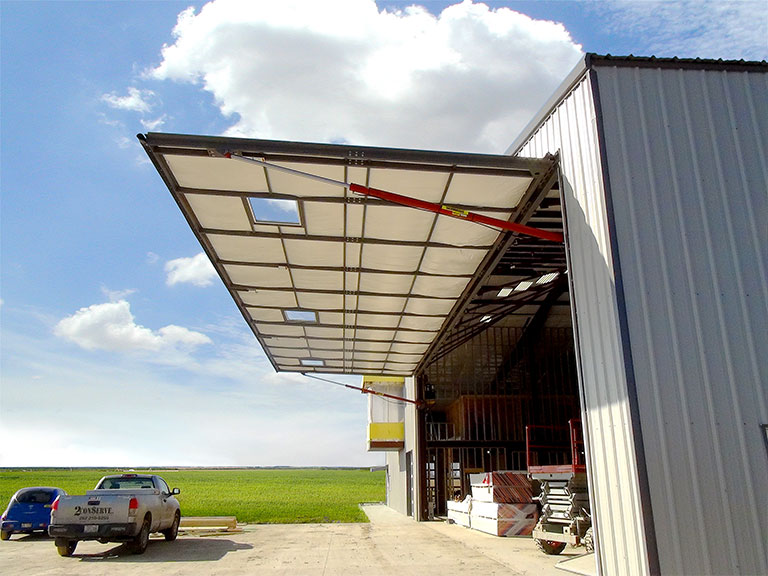 Two doors, One Manufacturer
Schweiss Doors offers two great styles of power operated doors, both with the power to lift large doors. You have a choice of Schweiss Power Operated Hydraulic Doors or patented Schweiss Liftstrap Bifold Doors. The two doors have plenty of powerful features that make any hydraulic or bifold door owner satisfied they went with the #1 - Schweiss Door purchase.
Schweiss Superior Hydraulic Door Design
Power with a simple hydraulic lift design. Schweiss hydraulic doors lift smoothly between positions, due to a high-quality electric Red Power door hydraulic lift pump system. Our one-piece power operated hydraulic doors come complete with built-in framework so you benefit from easy installation, not to mention additional building strength and fast operating lift speeds.
Schweiss Lift Strap Bifold Door Strong Points
With the lift strap system installed on your Schweiss Bifold Door you have a safer and stronger lifting door than you can get with cable lift systems. You get a clean look with internal trusses. No need to worry about piles of snow in front of a Schweiss Bifold Door because they lift upward not outward. If it's power you want, Schweiss Bifold Doors provides it and gives you a soft opening and closing power feature with straps while still retaining a fast operating door speed.
Schweiss Power Operated Hydraulic Doors Will Save You Big Money
A Schweiss Power Operated Hydraulic Door will save you big money. Hydraulic lift doors require only 6" of headroom resulting in less building cost. Fewer moving lift parts on power operated hydraulic doors result in less maintenance cost. With Schweiss Doors, hydraulic or patented bifold strap lift doors, you can expect on time delivery and no hidden fees. Schweiss knows the door business from one end to the other.
Schweiss Red Power Doors Put Safety First!
With our new Red Power hydraulic pump there are safety lift features built-in. With a Deadman Switch, the minute your finger leaves the door control your hydraulic power operated door automatically stops. There are many more hydraulic safety features that make your door safer. At Schweiss Doors, we are careful to educate and inform our customers of all hydraulic door safety features. The heavy-duty hydraulic cylinders lock the door secure to the building, weathertight!
Schweiss Straps Revolutionized The Bifold Door Industry
Customers are asking for the power operated lift strap Bifold Doors. Some ask if they can get a conversion kit to add lift straps to replace cables. And when you go with lift straps you will not have to worry about non-operating cables or pulleys. A lift strap bifold door takes the worry out of doing any adjustments on your bifold door. The Schweiss strong lift straps are rated for 29,000 lbs. on each strap compared to 7,000 lbs. per cable. Schweiss Lift Strap Bifold Doors are faster, quieter, safer, longer lasting and give you the lifting power you need. Schweiss Doors offers a 10 year warranty on patented lift straps.